2007
February 16, 2008
Netflix DVD
USA
English
160 Minutes
Biography / Crime / Drama / Western
Andrew Dominik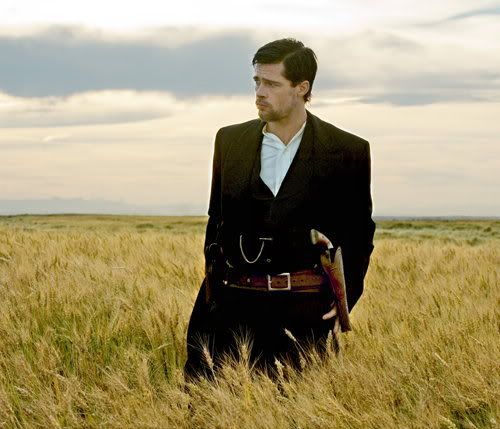 Casey Affleck is pretty much the star here, even though his nomination is in the supporting category. He reads the exciting adventures of Jesse James and the James Gang and then finds his way into becoming a member of the gang himself. He is creepy --like a modern day superfan. But not as creepy as Pitt plays James himself. Paranoid, immature one day, father-of-the-year and loyal the next.
The film sure looks beautiful. Wide open spaces, snow-covered plains, a night-time train robbery is incredibly exciting. But most of this film is a slow, unspoken story about who can trust who and whether a man's biggest fan can also be his murderer. I was never bored, but boy is this thing long. Mary Louise Parker plays the seemingly mute Mrs. James. Sam Rockwell is Bob's brother, mostly playing dumb when others are watching.
Oscar Nominations:
--Best Supporting Actor of 2007 for Casey Affleck
--Best Cinematography of 2007 for Roger Deakins
Also, SAG Award Nomination for Affleck.
6.8
Metacritic
7.9 IMDB
***^ Ebert
***^ Phillips
A Schwarzbaum
A Tobias
**^ Berardinelli
~~